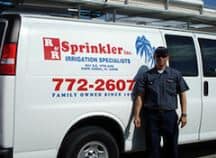 Having a plan will save you money!
At R & R Sprinkler and Landscape, we know how important it is for our customers to save money. That is why we developed irrigation maintenance contracts that will save you hundreds of dollars in costly repairs.
Maintenance contracts ensure that irrigation systems are checked periodically to ensure they are working efficiently, providing the proper coverage. We will also check to make sure there aren't any leaks and/or broken parts of your sprinkler system such as heads, sprinkler lines, etc.
Fill out our online quote form and our office will contact you to update you on our maintenance contracts. Trust us to make sure your irrigation system not only works but saves you money on monthly water bills and future sprinkler system issues.
Sign up for the plan that works for you!
Frequency of Maintenance Contracts:
Monthly (12 visits per year)
Every Other Month (6 visits per year)
Quarterly (4 visits per year)
Semi Annual (2 visits per year)
Annual Backflow Device Inspection (1 visit per year)
Type Of Irrigation Service Contracts:
Residential
Homeowners Associations (HOA's)
Commercial
Annual Backflow Device Inspections